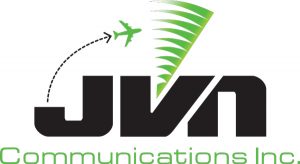 JVN Communications, Inc. is a software development and support company, specializing in Federal Aviation Administration (FAA), military, international and civil aviation facilities applications. We develop custom drivers, applications, and utilities for radar and system to system communication. Our products consist of simulators and tools for test and monitoring, which are in use at field sites and development centers across the country, Korea and Japan. We base our products on the Linux operating system due to its robust and stable nature.
Because your success is ours...
The strength of JVN Communications, Inc. is our people, knowledge and commitment that accelerate the transformation of the National Airspace System (NAS). We provide the tools and people to integrate real time assessments of gate to gate operations and performance. Our expertise provides our customers with state of the art tools and simulation capabilities.
Quick Facts:
JVN Communications, Inc. was founded in 1995
It became Enroute Computer Solutions, Inc (ECS) wholly owned subsidiary in 2005
Awarded as #22 in NJ Best Places to Work 2017
It is employee owned company
Core Disciplines:
COTS tools development and services
Product Development Engineering
Simulation & Modeling
Software Development & Support
Systems Integration, Verification & Deployment
Information Assurance
We currently support following organizations and facilities:
FAA - Federal Aviation Administration
FAA William J. Hughes Technical Center
Cockpit Simulation Lab
DataComm Lab
Enroute Test and Evaluation and Maintenance Laboratories
En Route Integration & Interoperability (I2F)
En Route Automation Modernization (ERAM)
Florida Test Bed (FTB)
NextGen Integration & Evaluation Capability (NIEC)
Target Generation Facility (TGF)
Time Based Flow Management (TBFM) Lab
Terminal Spacing and Sequencing (TSAS) Lab
Terminal Flight Data Management (TFDM) Lab
Terminal Test and Evaluation and Maintenance Laboratories
Mike Monroney Aeronautical Center
Terminal Operational Support Facilities (OSFs)
Terminal Radar Approach Control Facilities (TRACONs)
Air Traffic Control Centers (ARTCCs)
DoD - Department of Defense
Keesler AFB, MS

Kunsan Air Base, Korea

Osan Air Base Korea

Kadena Air Base, Japan
Industry
Air Traffic Engineering Company, LLC (ATEC)

DIGITALiBIZ (iBiz)

Human Solutions, Inc, (HSI)

Leidos

Lockheed Martin

Noblis

Raytheon
Academia
Embry Riddle Aeronautical University (ERAU)